KCW has a well –planned infrastructure and proactively keeps on improvising it in line with its academic growth. It has a large academic block hosting big and spacious classrooms and laboratories. Library, Computer lab, Canteen and other facilities have been enhanced and upgraded in the past whenever new courses or additional units of existing courses were added. There is multipurpose utilization of hall, classrooms and auditorium e.g. for conducting functions, exhibitions, seminars, conferences, workshops, mid-term and end semester exams, staff meetings, placement drives, alumni association meet etc. There is a huge library equipped with several text and references books for each of the departments. NCC and NSS camps are also held in the campus. The campus resources are also used for conducting banking recruitment examinations and the State Public Service Commission examinations. The play grounds, lawn tennis clay courts and basketball ground of the College are made available to sports coaching academies to promote the spirit of sports in young generation. The players use the ground for practice and to conduct matches and sports meets. The tennis courts have been leased to Ace Sports Academy for regular tennis and fitness coaching.
Sports
Sports and Games: The college has well-groomed teams of 20 games like Cricket, Hockey, Volley ball, Baseball, Basket ball, Soft-ball, Road Cycling, Track Cycling, Taekwondo, Lawn Tennis, Chess, Cross-Country, Kabaddi, Power-Lifting, Wrestling, Weight-lifting, Athletics, Kho-Kho.
Major Achievements in Sports In Sports, the college has to its credit International, National, State level and District level achievements. The college sports teams have won accolades in various championships and the players have set new records in different games. The college has bagged 226 Gold Medals, 194 Silver Medals, 140 Bronze Medals and 14 Overall Championship Trophies in the past five years and 16 Runners-up Trophies in different games. In 2011-12, the college bagged 1st Runners-up Overall Trophy in Panjab University, Chandigarh and Overall Trophy in Panjab University, Chandigarh in 2012-13 by scoring 342.5 points. In 2015-16, the college bagged Runners-up Trophy in Panjab University, Chandigarh.
Cafeteria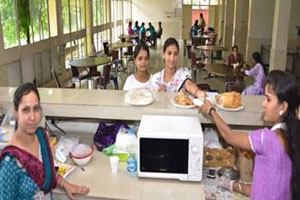 Khalsa College canteen is a thriving hub of activity in the College throughout the year. The canteen, with a covered area of 4292.25 sq.ft, has a seating capacity of more than one hundred students and a separate section for faculty.
A variety of Indian food and snack items are provided to the students and staff of the college with highest quality. Canteen has a big kitchen and kitchen staff takes extra care to provide the students and staff with nutritious and hygienic food. Fresh Juice and Snack Corner is a popular spot where students can enjoy fresh juice and snack tit-bits to rejuvenate them.
The Canteen Monitoring Committee keeps an eye on the working of the canteen and conducts periodical inspection to check the production and sale of quality food and rendering of decent service at reasonable and approved rates.
Auditorium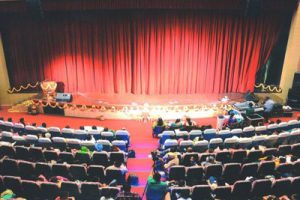 The college has a centrally air-conditioned auditorium in the campus with a seating capacity of more than 700 students. The auditorium, built with latest state-of-architecture design is equipped with the most modern facilities and is the pride of the college. It is equipped with hi-tech audio-visual equipment and super specialty sound and light system. It acts as a platform to the students for fruitful academic and cultural activities.
Open Air Theatre

The college campus has a spacious open- air theatre which provides a platform to conduct departmental activities as well as host various cultural events and exhibitions. It is also a favorite space for student interaction and creative exchange of ideas. It has seating capacity of approx. 600 hundred students.
First Aid Room
To ensure the best of physical and mental health of students as well as teaching and non-teaching staff, the College has a dedicated examination cum consultation room for the doctor. First aid kit is also available with the hostel warden in case of minor requirements.
The college has signed an MOU with Gurdev Hospital from which the specialized doctors visit the campus for regular medical check-ups of the residential and non-residential students.
Book Shop

The College Book Shop provides all text books and practical copies to the students at reasonable price. Books pertaining to the university syllabus and general books are made available to hostellers as well as day scholars.
Provision Store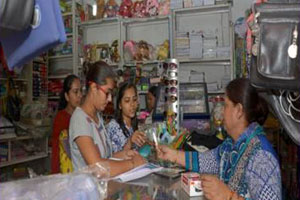 The College has a provision store which caters to the needs of the students especially the hostellers. Daily requirement material is available at minimal prices for the students in addition to some stationery also.
Gurudwara Sahib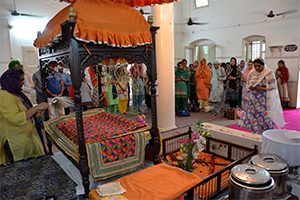 Sarjit Gurdwara is located in the college campus where the staff and students of the college participate actively in the "Community Kitchen" .. They collect the funds and prepare 'langar' which is partaken by the neighborhood community enthusiastically.
Smart Classes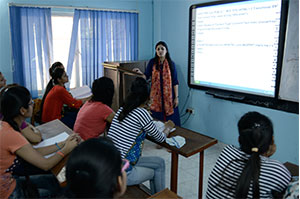 KCW takes profound initiatives to provide latest technology to students thus benefiting them in keeping up with the pace of modernizing IT world. Smart class rooms have been added to the infrastructure to make the teaching learning process more intriguing. Emphasizing on interactive mode of teaching, the faculty makes use of power point and multimedia presentations for better understanding and greater retention of the subject matter. Videos and documentary movies are also used by some of the departments as teaching tools.
Multipurpose Hall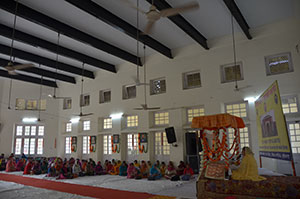 There is multipurpose utilization of hall, e.g. for conducting functions, exhibitions, seminars, conferences, workshops, mid-term and end-semester exams, staff meetings, placement drives, alumni association meet etc.
Seminar Hall

The college has provided infrastructural facilities in the form of seminar hall,  for  conducting  workshops,  conferences, symposia, guest lecturers etc. Two seminar halls have all necessary ICT equipments.
Parking

The college has multilevel parking facility for students and teachers under CCTV surveillance to ensure security, safety and discipline in the college. Additional security is  provided in the students   parking   area   to   address complaints of theft in the areas.